This post is a test of the board Banana Pi M2+, a free sample sent by Sinovoip. (Thanks Izzy ! )
I will try to explain pros and cons of this board, even if I must try Android and camera, not done yet.
So the board is based on a H3 quad core, 1Gb DDR3 RAM, a 7Gb eMMC, inboard Wifi + BT.
The complete description is here: http://www.banana-pi.org/m2plus.html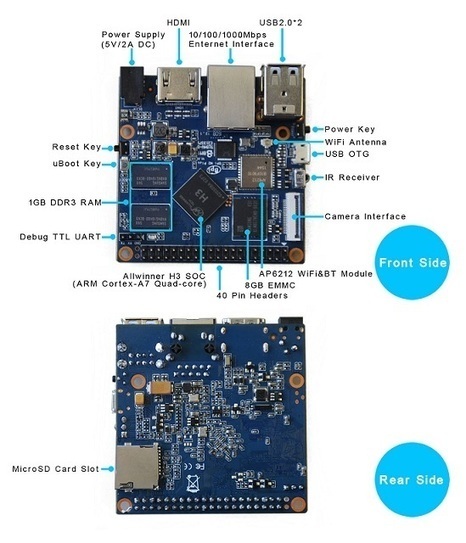 The size of the board could be ideal for Diskio Pi, the chip is not very hot in normal use.
[stress test in progress]
I have tested Debian (Armbian) and Ubuntu 16.04 (BPi official)

DEBIAN JESSIE (XFCE4):
Very light distribution, version tested 5.10 but 5.13 available now (here) with Wifi out of the box.
Some modifications to install wifi:
- add the driver bcmdhd in /etc/modules
- download and install AP4212 firmware
BT not tested yet
The image is after dezip 14.8 Go, but can be cloned in the eMMc (7.3Go).
I wonder what was the problem... but no problem.
After a simple
dd if=/path/ubuntu.img of=/dev/mmcblk1 bs=10mb
and a reboot, Ubuntu is loading.
Lots of package are pre-installed, too much. For example, Firefox and Chrome-browser...
So, some clean must be done.
No Mali driver is available at this time, but the window manager is fine.
Just a problem to shutdown. I must to force it because something is wrong with vfe:
[   77.521003] [VFE]vfe_open
[   77.521031] [VFE]..........................vfe clk open!.......................
[   77.521082] [VFE]vfe_open ok
[   77.521500] [VFE_ERR]input index(0) > dev->dev_qty(1)-1 invalid!, device_valid_flag[0] = 0
[   77.531298] [VFE]vfe_close
[   77.531319] [VFE]vfe select input flag = 0, s_input have not be used .
[   77.531347] [VFE]..........................vfe clk close!.......................
[   77.531390] [VFE]vfe_close end
GENERAL USE:
A big problem: I can't start the board with my 2 usb devices plugged, using a 2A power. The startup consumption is about 0.4A.
I must unplugged the mouse to see the screen alight
[post in progress]